Well, I missed the posting last nite (Weds.) due to just being very tired. We have been hitting the ground running every day since we've arrived at pre 8AM start times. The chances to sit and take a breather, a drink or sometimes even a bite to eat have been slim. We've still managed to find time to talk about what we're doing, actually non-stop and round the clock. My head hit the pillow Weds. nite at 10:30 however, which puts our posting update today covering the last TWO days.
The sun sets on our househunting journey-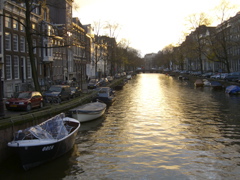 For those who can't quite wait, the photos are here for Day 4 and Day 5 !
Summary-
The summary is that we have secured verbal options on 2 primary canal front homes. (324 Singel, and 586 Herengracht) We have a 3rd pending and up in the air as we prepare to fly home. (435 Keizersgracht) This means that we have several days to commit and then we enter negotiations, which will be handled via liaision by our Relocation consultants at foursquare, b.v.
The Revelation-
We've learned that the 2 most sought after locations in Amsterdam are the Old Canal area and Oid-Zuid (Old South), which includes the area around Vondel Park. The canal houses are almost all much smaller. 1-2 bedrooms is the norm. It is relatively unheard of for a whole house to come on the market. The one whole house we did see was over on the Amstel river, on the edge of the old canal area, but unfortnuately quite close to the Rembrandtplein, which is more of a loud tourist area. The house was also kind of dysfunctional for our use (long story).
Another thing we've learned is that our requirements, despite our desire to downsize, really put us at the top end of the market for Amsterdam. We were told by everyone that "you've seen everything." After hearing this from all the Markelaars (realtors) independently, we started to agree that maybe we had. The inventory for larger places is just very thin.
The biggest revelation we had was a reaffirmation about why we are doing this. We already live in a big wide open space. Treetops is huge- the views, the property, the houses, everything. Example, the Vondel Park, on whole, is approximately 10 acres. The field at Treetops is 12 acres alone, and the yard between the house and the pier is almost 5 acres. So, having a house fronting on the Vondel Park, albeit a goal for Amsterdamers used to confining spaces, is not one for us. Our raison d'etre for this adventure is to try to truly live as the Dutch do, to fully experience the lifestyle. Vondel Park abuts shopping areas akin to Rodeo Drive in Beveryly Hills, or Park Avenue in New York. It's impressive and gorgeous, but not quite the world of the Dutch culture at large. Although Vondel Park is awesome, it's not the locus of our trip. Thus, we swung back to the Canal areas. Finally, with that, there are really only 3 places the fit the bill for various reasons.
One event I must pass on- a house we passed on was located on a VERY narrow alley-like street in the Center, near the Centraal Station called Sint Nicolaasstraat. After Sinter Klaas day on Monday I guess I'm just in the Holiday spirit.
I have to say that I felt that the omen of living in a Dutch house on Sint Nicolaasstraat was magnetic. The house was the prototypical Dutch house, absolutely perfect- so small, so yacht-like, so custom. The only issue was that we felt it may not have been the most kid-friendly area. Some photos of it start here.
Synchronicity-
The one final thought I'll leave you with is one of synchronicity. This is a concept originally conceived of by another major influencer for my life, Carl Jung.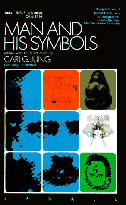 Many completely unrelated events inexplicably connect to the unique "at home" feeling I've always had in Amsterdam, the reason I chose the Pulitzer for our hotel (due to it's location in the Jordaan area), how Caren has also felt "at home" in Holland, how our kids jumped feet-first into the idea of the Netherlands sight unseen, and finally, the full circle connection to my professional life and the relationship I've developed with one of my most trusted advisors, friends and mentors, Andy van Dam.
About 5 1/2 years ago Andy introduced me to Dick Bulterman, then the founder of an interactive web media sofware firm called Oratrix, based in Amsterdam. Oratrix did stuff quite similar to my prior work at Netscape and Insoft. Dick and I had similar interests, etc. Our intro resulted in Context Media OEM'ing source code from Oratrix. The wheel rolls forward almost six years- I go to Andy's house during our "Project X" phase of the M&A process for Context Media. As I arrive it's to find that Dick is a guest, and….yes, he's here visiting from Amsterdam. So at this phase we reconnected over a great dinner with Andy and his wife.
To roll the story up, completely independently, Caren and I have surveyed the whole market for fine canal houses this week in Amsterdam. One area we've continued to be drawn to is the area of the Jordaan on the Singel Canal commonly called "The Nines." The Nines is an area of 9 streets that form cozy personal neighborhood oriented shop spaces between the larger canal thoroughfares. This area feels about as right as any urban area could ever dream of feeling. Finally, 324 Singel winds up as a finalist for us.
Caren and I had planned to meet Dick and his wife tonite. Because of various scheduling snafus we missed each other. Upon arriving at the hotel I see I have a voice mail. It is Dick saying, "Hi, why don't you stop by our place, it's at 324 Singel…."
Wow ! How's that for a Carl Jung moment ! Of all the times spent here, all the feelings of "at home," all the events in our disconnected lives, all the people we've met, in a city of 800,000 +, Caren and I select a house in the very same canal house as Dick Bulterman and his wonderful family !
At any rate, we hope that this becomes the one we can ultimately strike an agreement on for our January 2006 move. The next week shall see where we'll ultimately live in Amsterdam. But….that's for a future storytelling !
Love to all !